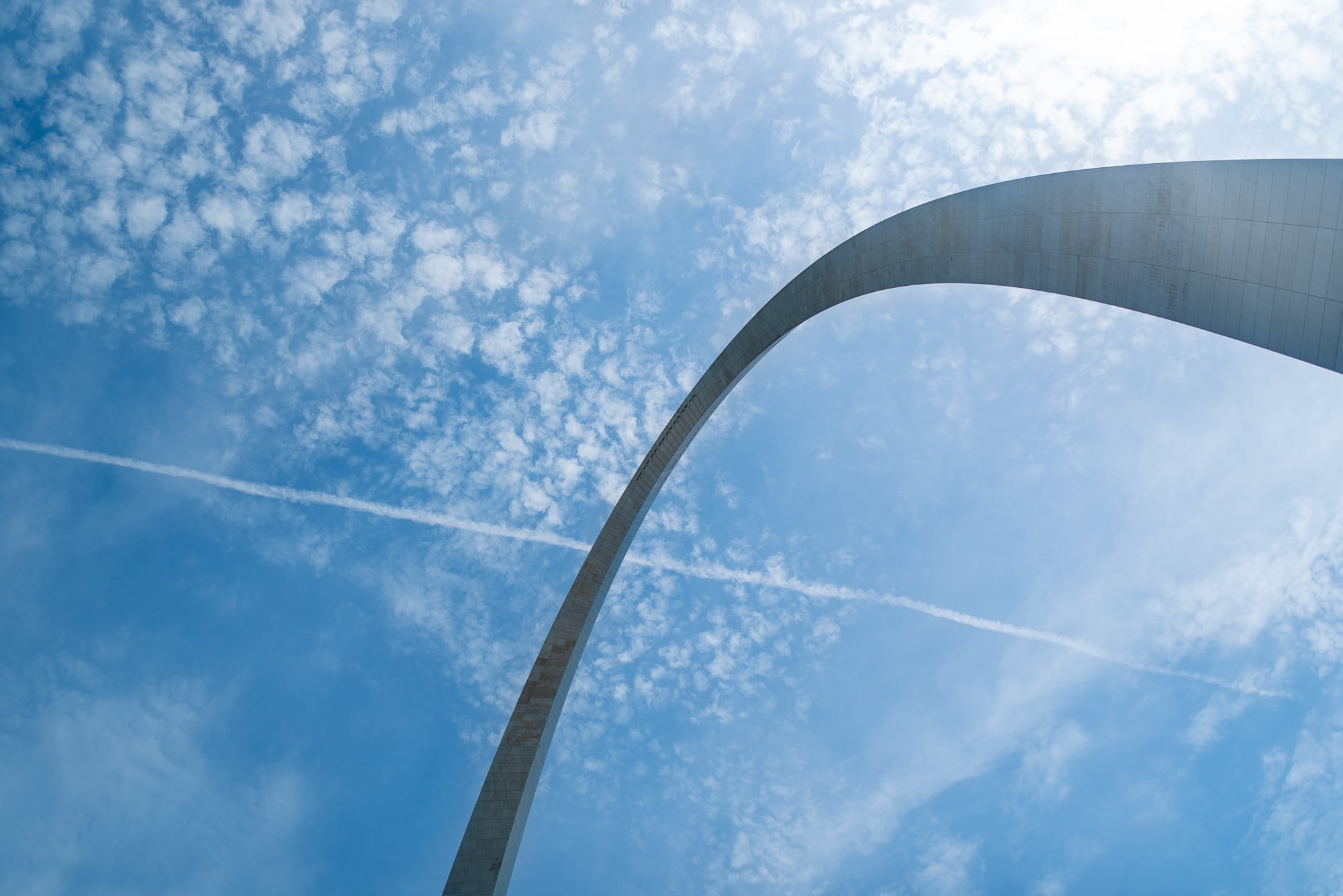 There's only one way to spend the Fourth of July in St. Louis, and that's situated under The Gateway Arch with friends and family. This year, it's better than ever—not just because of all the amazing events going on during the week, but this is the first Fourth of July on the newly renovated Arch grounds! We're here to help make sure you have an unforgettable celebration.
The Basics
Getting downtown: There are plenty of parking garages downtown (check out getaroundstl.com for a list of preferred parking garages), but you'll want to try to save yourself some headaches—carpool with friends, or even better, take the MetroLink, taxi, or a rideshare.
Dress appropriately: It may go without saying, but remember, it's hot in St. Louis and the sun doesn't set until late. Bring sunscreen!
Pack wisely: The pros know to bring a blanket to sit on, but collapsible chairs are also allowed. You can't bring in your own booze, so either bring an empty plastic water bottle or an sealed bottle. Make sure to stay hydrated!
Leave the drone and dogs at home. You can't bring'em in.
The Game Plan
This year's Fourth of July experience downtown stretches out over nearly a week! That means you're going to need to pick and choose wisely (unless you're going all in—we applaud you!). Let's figure this out.
Because your body is a temple, you're going to want to kick things off nice and early on Tuesday, July 3rd, with a free sunrise yoga class with Yoga Buzz in the shadow of the Arch at the recently renovated Kiener Plaza. The class ends at 8:00 am, so you can either head home for a bit, or do a little exploring. Hungry? Stop by Rooster for an energizing brunch, then head over to the T-Rex innovation building and get inspired by some of the coolest local start ups in St. Louis.
Once you've recovered, mosey on down to the Arch grounds (make sure to "oooh" and "ahhh" at the new landscaping) for the grand opening ofthe new Museum at the Gateway Arch. The ribbon cutting ceremony is at 10 am, followed by cookies, food trucks, games, music, and much more.
Afterwards, head into Soulard for a taste of St. Louis' best bites, like tacos and margaritas at Mission Taco Joint or world-famous BBQ at Bogart's Smokehouse.
The big day is Wednesday, July 4th. Here's what needs to happen: wake up early and get a good breakfast in you (maybe stop and grab some pastries on your way downtown?), then make your way to 20th and Market for the kick off of the 136th America's Birthday Parade, which conveniently ends just in front of the Arch.
At noon, Fair Saint Louis kicks off, but fireworks aren't until 9:35 PM, so you need to plan accordingly—it's going to be hot out! We recommend you check out the schedule at the link above and figure out what works best for you. The day is packed full of family friendly events, ranging from Purina's Pro Plan Performance Team to the BOEING Air Show over the Mississippi—plus the evening's headliner, the St. Louis Symphony Orchestra.
Don't want the night to end after the fireworks? Scoot over to Broadway Oyster Bar and celebrate with some good eats and good music, as The Voodoo Players take the stage.
Thursday will be a bit of a calmer day—Fair Saint Louis takes the day off, but the Gateway Arch Park Foundation has a full schedule with their Summer Social. The family friendly day is filled with yoga, food trucks, lawn games, cocktails, and a live blues concert featuring Jeremiah Johnson and Mr. Sipp in the evening. It all culminated with a giant fireworks show, because why not?!
Fair Saint Louis kicks back up again on Friday and Saturday with more food trucks, more family friendly shows, and some killer artists taking over the Enterprise Rent-A-Car stage. Friday plays host to Andy Grammer and Jason Derulo, while Saturday brings the likes of Michael Ray and Martina McBride to the stage.
On the 4th, 6th, and 7th, you can also take in the fireworks from above at Three Sixty Rooftop Bar or from the water on a Gateway Arch Riverboat Cruise, if sitting on the grass isn't your thing.
And there you have it: your guide to the ultimate Fourth of July weekend in St. Louis. You'll have all of Sunday to rest up and recover. See you next year!